I have some reviews for the Lip Smackers Coca-Cola collection.

Here's the description for the balms: "The Coca-Cola Flavored Lip Gloss Collection offers the authentic taste of your favorite beverage flavors in lip glosses that are as good for your lips as they taste. Plus, Lip Smackers provide smoothing moisture and lip refreshment in one. Contains: Coca-Cola, Coca-Cola Black Cherry Vanilla, Coca-Cola Cherry, Coca-Cola Vanilla, Barq's, Sprite."




Favorite(s): Coca-Cola and Barq's.
Least Favorite: Sprite
Texture: I think everyone has tried Lip Smackers before, but just in case: the balms are smooth and of a nice texture. They stay on the lips pretty long.
Overall Performance: They're decent for the cheap price, though they aren't the best for lots of moisture. I hate that the scents seem to fade a little while after applying the balm, but the balm is still thickly coating the lips. My Lip Stuff's balms hold the scents a lot better on the lips. Some of the ingredients in the Lip Smackers balms are kinda artificial and odd sounding.
Packaging: Tube
Ingredients: Castor seed oil, cetyl acetate, beeswax, candelilla wax, flavor, polybutene, sesame seed oil, propylene glycol, ozokerite, carnauba wax, acetylated lanolin alcohol, mineral oil, hydrogenated soy glycerides, paraffin, wheat germ oil, stearic acid, propyl gallate, citric acid, limonene, cinnamyl alcohol, methyl 2-octynoate, benzyl benzoate, linalool, citronellol, geraniol, coumarin, cinnamal, citral, eugenol, isoeugenol, neotame, sodium saccharin. (+ May contain coloring ingredients.)
Price: $4.99 full price (Lip Smackers products are buy one, get one 50% off at Ulta right now, plus you should be able to use an Ulta coupon as well.)
Purchased From: Ulta - in the seasonal display aisle (not with all the other Bonne Bell products)


Name: Coca-Cola
Color: Brown
Scent: This is pretty close to the scent of Coca-Cola -- and not just a generic cola flavor, either! It even smells a little fizzy.
Taste: Maybe a little like Coca-Cola
Repurchase?: Yes! I like this flavor a lot. I would recommend it to anyone who likes Coca-Cola.


Name: Coca-Cola Black Cherry Vanilla
Color: Dark brownish-red
Scent: Mostly like black cherry and vanilla to me. There's a hint of cola in the background, but not enough where it would please most cola lovers.
Taste: Cherry-ish
Repurchase?: No. There just isn't enough of a Coca-Cola flavor in here for me. It is a nice fruity flavor, for those who want a flavor like that.


Name: Coca-Cola Cherry
Color: Red
Scent: Sweet and strong cherry with a light cola flavor. This balm is more accurate than Vintage Sister's Cherry Cola flavor.
Taste: Cherry-ish
Repurchase?: No, this balm is a little too strong on the cherry. I wanted a stronger cola scent to it.


Name: Coca-Cola Vanilla
Color: Cream
Scent: Mostly that Lip Smackers Vanilla balm scent with a small amount of cola.
Taste: Slightly sweet
Repurchase?: No, probably not. I would only repurchase this if I was in the mood for a relatively plain vanilla balm. I do think this flavor is better than the regular vanilla Lip Smackers balm, though.


Name: Barq's
Color: Light brown
Scent: Fizzy root beer - dead on in the tube. It becomes much softer and a little more 'generic' root beer smelling when applied, but it's still pretty good.
Taste: A slight hint of root beer
Repurchase?: Yes. I was thinking this would be one of the worst flavors for some reason, but this is actually pretty good. Actually, it's one of the best flavors in the Coca-Cola collection.


Name: Sprite
Color: White (and I mean bright white)
Scent: A little like fizzy Sprite, but with a gross undertone (probably from the lip balm ingredients or something)
Taste: Kinda like Sprite, but grosser than that.
Repurchase?: No. This is my least favorite balm out of this whole collection. The white tint to this balm shows up on the lips, which is enough on its own to make me dislike it. However, there's somewhat of a nasty smell about this balm; I tend to feel queasy when I put it on. Overall, it reminds me of a Sprite-scented glue stick or something. Yuck.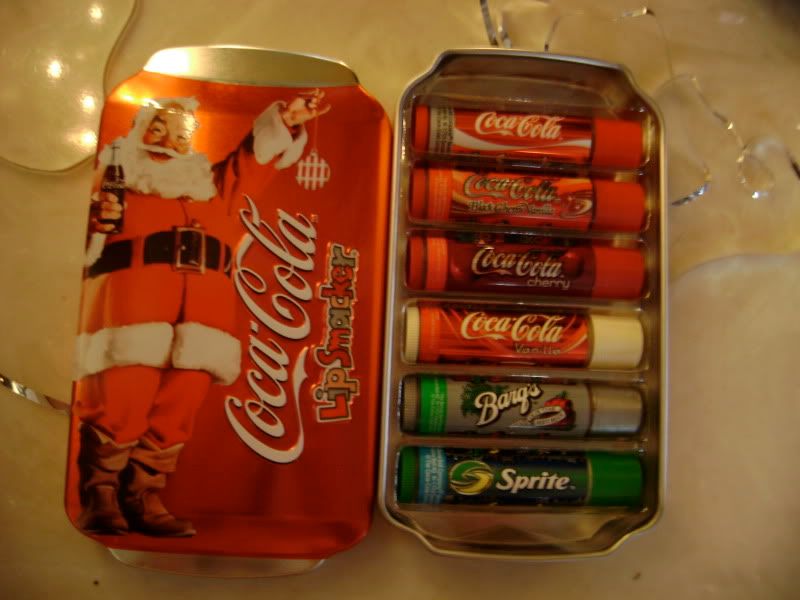 Happy holidays everybody! I'd love to see more reviews and stuff on here...